The Prime Wealthability is an e-learning program that provides to you a set of modules with essential training, a foundation, for the development of primal wealth ability ( or the ability to generate, care, nurture and sustain wealth).
Restore, harmonize, adjust your perception & relationship with your own current, past and future wealth, property and money. Purify, activate, nurture your earth element.
QUICK SYLVER
 Wealthability – 4+ Weeks e-learning 
e-Learning Platform
@ Trainengage, Prime Wealth Quick Sylver e-Learning Program 
Quick Start in Prime Wealth-ability with just 180.00 EUR / Month
Develop the ability to feel gratitude, joy and happiness for own wealth, property and money; to perceive them as an expression of love and self love, as a blessing for your life, dreams, visions and freedoms, for your family, community and culture, for peace and life care, for heritage.
REQUEST A SKYPE SALES SESSION 
welcome@luisdanielmaldonadofonken.info
skype @ luisdanielmaldonadofonken  (Message: Quick Sylver)
Detail, information on the e-learning program quicksylver, demo, and interview with the author and e-trainer.
QUICK SYLVER Includes:
E-book with the content of the e-learning Program, Prime Wealthability CHAPTERS 0-7/9, foundation training for the Prime Wealthability WHITE BELT.
GYM9 Trainings, essential practices, techniques and methods for the enhancement of wealthability
Purification of the earth element practices. ( The idea of "purification" is of a transformational process with the aim of change of habits and patterns, shift them into those that enhance wealthability )
Advice, comments and answer to individuals questions by private message and collective e-forum.
At the e-learning platform you will find images, charts, audio and video guidance.
(Optional, not included in price: Skype Coaching, and Wealthability assessment)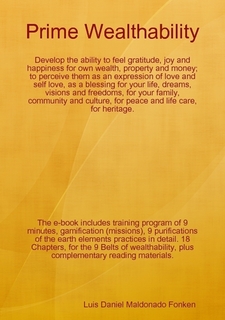 The e-book has the text content. At the e-learning platform you will find images, charts, audio and video guidance as well you are welcome to request  coaching (skype) and assessment tools training.
CHAPTER ZERO:  Welcome
CHAPTER ONE: About the Wealthability e-learning program
CHAPTER TWO: e-Learning with strategy.
CHAPTER THREE: Introduction to the Prime Wealthability e-learning Program.
CHAPTER FOUR: The Wisdom of the Golden Seed of Wealth
CHAPTER FIVE: Wealth eaters and wealthability enhancers
CHAPTER SIX:  Quick Sylver e-Training modules, alchemy methods and practices in order to make it tangible!

Prime Breathing
Embracing the earth element
The 1 gr Gold Training
Wealth holding and retention
Perception

CHAPTER SEVEN: 3 purifications of the earth element: learning my perceiving and experiencing.
CHAPTER EIGHT: Learning by playing, 2 missions.
CHAPTER NINE: Learning by doing, 1 application project.
THE 9 BELTS TRAINING PROGRAM OVERVIEW