Quick Sylver Wealthability – 4 Weeks e-learning with Quick Sylver chapters 0-7
Quick Start 180.00 EUR / Month
Schedule a skype session with the author and trainer @ luisdanielmaldonadofonken
Or join the e-learning program TODAY
---
---
https://wealthability.launchrock.com/
PRIME WEALTHABILITY
The ability of perceiving love and self love in own wealth, property and money.
We are about to launch the WEALTHABILITY online TRAINING PROGRAM on: "how to live a happy life with your own wealth? and how to create more wealth!".
Created by Luis Daniel Maldonado Fonken by the application of Prime Technology.
www.services.luisdanielmaldonadofonken.info
www.facebook.com/wealthability9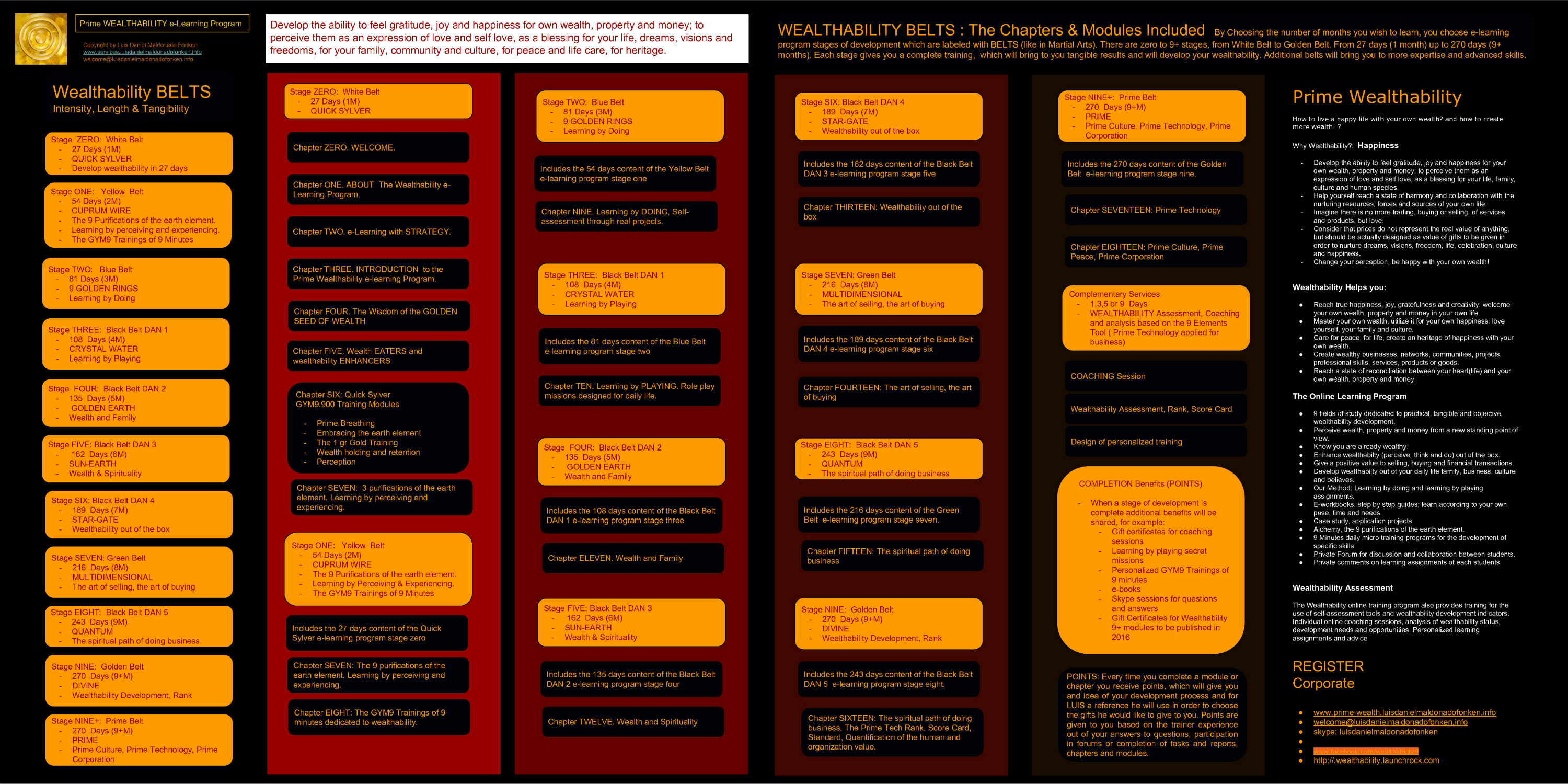 Happiness
Develop the ability to feel gratitude, joy and happiness for your own wealth, property and money; to perceive them as an expression of love and self love, as a blessing for your life, family, culture and human species.
Help yourself reach a state of harmony and collaboration with the nurturing resources, forces and sources of your own life.
Imagine there is no more trading, buying or selling, of services and products, but love.
Consider that prices do not represent the real value of anything, but should be actualy designed as value of gifts to be given in order to nurture dreams, visions, freedom, life, celebration, culture and happiness.
Change your perception, be happy with your own wealth!
The Online Learning Program
9 fields of study dedicated to practical, tangible and objective, wealthability development.
Perceive wealth, property and money from a new standing point of view.
Know you are aleady wealthy.
Enhance wealthabilty (perceive, think and do) out of the box.
Give a positive value to selling, buying and finnancial transactios.
Develop wealthabilty out of your daily life family, business, culture and believes.
Our Method: Learning by doing and learning by playing assignments.
E-workbooks, step by step guides; learn according to your own pase, time and needs.
Case study, applcation projects.
Alchemy, the 9purifications of the earth element.
9 Minutes daily micro training programs for the development of specific skills
Private Forum for discussion and colaboration between students.
Private comments on learning assignments of each students
Wealthability
Helps you:
Reach true happiness, joy, gratefulness and creativity: welcome your own wealth, property and money in your own life.
Master your own wealth, utilize it for your own happiness: love yourself, your family and culture.
Care for peace, for life, create an heritage of happiness with your own wealth.
Create wealthy business, networks, communties, projects, professional skills, services, products or goods.
Reach a state of reconciliation between your heart(life) and your own wealth, property and money.
Wealthability Assessment
The Wealthability online training program also provides training for the use of self-assessment tools and wealthability development indicators.
Individual online coaching sessions, analysis of wealthability status, development needs and opportunties.
Personalized learning assignments and advice
My Mission
To bring by Prime Wealthability to 9'000000 subscribers, would you be one of them ?
Get notified when it's released.
Be one of the first registered, become eligible for Gift Certificates.
https://wealthability.launchrock.com/